My Team
Helping our clients achieve financial success is the main goal of my practice, to accomplish this in the most effective way different team members have different roles. Never hesitate to reach out to any of us with questions, concerns, or simply to catch up.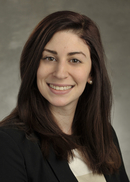 Elyssa Douglass
Director of Marketing and Business Operations
Elyssa graduated from DePauw University in 2013 with a bachelor's degree in English Writing. During her summers, she interned with a financial planning practice, which sparked her interest in the field.
Elyssa started working for the McQuade Financial Group training new financial representatives in December 2014. After a year, she transitioned into a full-time position on Team Pearce. Elyssa manages all the marketing and business operations of our team and is licensed in Life and Health Insurance. Please feel free to contact her regarding any insurance servicing, processing of applications, and scheduling TJ's calendar.
(312) 443-7367